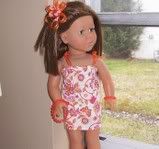 I'm blogging again about this giveaway so it won't get buried under all my other posts.
You can win
your favorite item
currently listed in my doll specialty shop
ReesasFavorites
. All you need to do is visit my shop and then come back here to the blog and make a comment about something in the shop. Make your comment on any post that talks about this contest -- like this one! The winner will be drawn on Feb. 28, and be able to choose any currently listed item from the shop. So be sure you leave a way to contact you along with your comment.
Thanks to those who have participated so far. ☺